Article's author: Svetlana Vysotskaya
Published: 2012-08-23
Reviews: 7703
Memorial sign "To Children of War": the pain impossible to forget.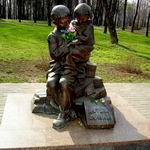 Memorial sign "To Children of War" in Vitebsk is a heartbreaking reminder of the tragic pages in the history of the Belarusian people. It is this part of our consciousness, which could not be neither forgot nor lost, or we will lose our future. Memorial sign "To Children of War" needs to remember, it needs to live, because it's the heart of our soul.
Vitebsk ... Who had ever been here, will never forget this city with bright streets, green parks and gardens and unusual history. From time immemorial the culture of Vitebsk fueled with old folk traditions and identity, probably, that`s why you want to return here again and again. And all because historical Vitebsk is able to impress even the most sophisticated hearts.
Appearing for the first time in the city, you may face what to see in Vitebsk. There are many options for finding the answers. And the most simple is to take a look at site VitebskCity.by. On the pages of the portal you will learn all Vitebsk attractions. And perhaps you will be especially impressed by memorial sign "To Children of War" by Vitebsk sculptor Valery Moguchy. Reflecting the heroic feat of the Belarusian people, the sculpture became a disturbing reminder of the harsh years of the war when soldiers, fathers and children were lost among explosions of grenades and ringing bloody bullets on the roads of the war …
Memorial sign "To Children of War" is located in a symbolic place in Vitebsk – the Park of Partisan Glory named after Minay Shmyrev. The wreckage of a ruined house - and two figures of children, grieving and in heart-rending despair. A teenage boy is sitting on the steps and a girl leaned to him, as if hiding away from the bloody war moans. And they are looking at a piece of bread, which the boy gently holds in his hand, as if the last hope and faith in the victory is burning in it.
In fact, this monument in Vitebsk features not just a single episode of the war but the great tragedy of the Belarusian people. Only in spring 1944 2 400 children from Vitebsk were transported to Germany. Another 6 000 children with their parents were living barrier during the retreat of German-fascist invaders. And it's hard to count how many children were tortured in concentration camps...
Yes, the story is merciless. And we could not forget about it for the future. And the history is given to us to remember. The past, present and future will be recalled by other sights of Vitebsk, which are located near memorial sign "To Children of War". For example, in Shmyrev Museum history amateurs can see the course of combat operations in Vitebsk region. A lot of pleasure will bring a leisurely stroll with soothing whisper of the leaves in the Park of Partisan Glory. Art lovers should take a look at the building of Vitebsk Philharmonic Hall. Curious natures will benefit from a little trip down Putna Street. More information about these sights of Vitebsk you can find at city portal VitebskCity.by.