Article's author: Eugenia Sabitskaya
Published: 2016-07-03
Reviews: 8350
Monument to the Veterinarian.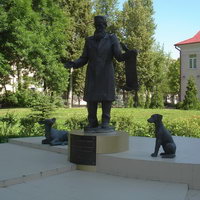 November 2011 pleased the Veterinary Academy students and residents of Vitebsk with inauguration of an unusual Monument to the Veterinarian. A bronze sculpture of the modern Dr.Doolittle is placed next to building of the Veterinary Academy.
The United Nations declared 2011 as the Year of Veterinary Services, established 25 years ago, so students and teachers of the Academy decided to celebrate this small anniversary in a special way, by setting a Monument to the Doctor-Veterinarian, who became one of the most interesting sights of Vitebsk in the courtyard of the Vitebsk State Veterinary Academy, which is one of the best cultural institutions in Vitebsk. The money to build a Monument to the Veterinarian in Vitebsk was collecting all together. The tender for its construction has been won by a famous Vitebsk sculptor Ivan Kazak. The monument was cast in Minsk. It is now the newest monument in Vitebsk.
The bronze sculpture shows a veterinarian in full growth. A dog and a calf comfortably seat at his feet and a parrot – on his arm. The veterinarian holds a scroll with written in large letters: "Veterinary medicine protects humanity." This is a short-cut citation of Russian veterinarian Sergey Evseenko: "Human medicine saves human, veterinary medicine protects humanity."
In fact, this monument is unique in its kind, because there are few sculptures to veterinarians in the world. The first of them was established in France, in Lyon, in honour of Claude Burzhel, who opened the first veterinary school in 1761.
Another famous monument to the veterinarian is a sculpture of doctor Shabad, established in 2007 in Vilnius, in the place where he cured a cat, deftly removing a fishing hook stuck in the poor animal's tongue a forceps.
The Monument to the Veterinarian is located next to Vitebsk Veterinary Academy (Former Land-Peasant Bank) at: 1st Dovator str., 7/1, Vitebsk.
Portal about Vitebsk, modern VitebskCity.by dedicated to the historic attractions of Vitebsk will tell you what to see in Vitebsk and nearby. This, of course, the Museum of Private Collections slightly aside of the Building of the Former Land-Peasant Bank (now the Academy) and Frunze Park with its picturesque bridges and ladders. The building of the Medical University is also noteworthy, where "colleagues" of the veterinarians study - physicians, dentists and pharmacists.