The city of world masterpieces.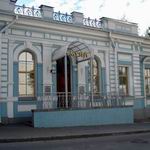 Vitebsk is a city of art. And you could not but agree with this. Tourist Vitebsk attracts with an endless walk on the streets and alleys - it does not matter: you have lived here more than a dozen years, or are making first steps in Vitebsk, mysterious and unusual.
Art is life, a source of inspiration, creativity and development. Perhaps that is why many tourists are convinced that being in the city and not visiting local museums and exhibitions means not learning anything about the sights of Vitebsk at all.
By the way, museums in Vitebsk are famous for rich and unique collections. And even foreign museums can envy some existing collections. Art, history, arts and crafts, the soul of the people is entwined in an indivisible whole, and again exposing Vitebsk before the visitors, so close and distant. One has only to hide just for a moment - and you will hear the museum exhibits whispering the wonderful history of Vitebsk, sometimes tragic, sometimes enthusiastic, jubilant. One moment - and it seems that the characters would descent from the paintings, subjects of arts and crafts would come to life, soaked in soul and kind thoughts of the masters, and all would begin to circle in a flying waltz. And like a charm Vitebsk attractions appear on the palms, in which an unusual mystery of the ordinary city is hidden.
To get acquainted more closely with the city you should easy walk on the site of Vitebsk. And slowly scrolling through the pages of the portal, you may be able to unravel the great mystery of a small city.