Article's author: Eugenia Sabitskaya
Published: 2012-09-18
Reviews: 8867
Marc Chagall Monument in Pokrovskaya Street.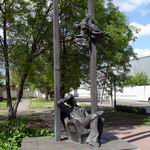 Marc Chagall Monument in Pokrovskaya Street is a symbol of love and respect to the great artist and an honorable citizen of Vitebsk. Here our famous countryman was born and grew, so for us Pokrovskaya Street begins with Chagall as the theater begins with a hanger. And if you like Chagall then put cornflowers to his figure, the painter's favorite flowers.
The competition for the best Monument to Marc Chagall was won by Vitebsk sculptor Gvozdikov, known with such works in the culture of Vitebsk as "Welcomers" sculpture at the Railway Station, a monument to actor Fyodor Shmakov, a monument to Gulliver in Orsha and a range of monuments in Vitebsk and memorial plaques that have become Vitebsk attractions in the course of time. Historical Vitebsk looks at us from the works of Gvozdikov with hard faces of generals and actors.
In fact, Marc Chagall Monument in Pokrovskaya Street was established in 1992 and had the inscription: "To my favorite singer of guitar poetry Veronica Dolina". But Chagall was not familiar with her! Although Alexander Gvozdikov worshiped her and her creativity. Well-known TV presenter Dmitry Dibrov even asked at one of the shows, "Why the monument is devoted to Chagall, and the inscription - to Dolina? Is it true that the sculptor had a love affair the singer?" Veronica Dolina joked.
The words of Robert Rozhdestvensky could describe Marc Chagall Memorial best:
He's old and resembles his loneliness.
He doesn't care to discourse on the weather.
Right away with a question:
"— Are you not from Vitebsk?.."—
An old fashioned blazer with worn out lapels…
This Vitebsk sight depicts Chagall tired, old, and dreaming to return to his native city.
Marc Chagall Monument is located at the intersection of streets Pokrovskaya and the Soviet Army.
What those who admire Chagall and the city of Vitebsk can see in Vitebsk? Chagall House-Museum in the end of Pokrovskaya Street, which remembers Marc as a little boy. To walk down Kirov Street, with towering Railway Station Building. To get acquainted with Belarusian culture in Centre of Peoples' crafts "Zadvinye".
The most interesting places of the city can be found on Vitebsk portal VitebskCity.by.