Article's author: Svetlana Vysotskaya
Published: 2012-08-22
Reviews: 9229
"Wandering Musician" has become a talisman of happiness.
Sculpture "Street Clown" has already become a proven talisman of good luck and happiness for Vitebsk residents, as well as striking element of urban design. The traveling musician embodies creativity of Vitebsk, its musical foundation, unprecedented gift, kindness and sunny mood.
A walk in Vitebsk will present a lot of crucial meetings and unforgettable experience. If you're in the city for the first time, no doubt, the question of what to see in Vitebsk is very actual. Of course, you can go on an amazing journey at random. But if you previously equip yourself with useful information on the site about Vitebsk, the trip will be twice as nice. Thumbing through the pages of the site you'll be surprised how rich and diverse the culture of Vitebsk is. Here is enough place for lush palaces, incredibly beautiful landscapes and majestic temples. But special attention should be paid to the sculptures in Vitebsk.
Walking through the city, one day the road will lead you to an unusual and mystical monument - sculpture "Wandering Musician". It is sometimes called "Street Clown". You will see an image of good-natured clown who plays the harmonica, and next to it – a dancing poodle. The history of the sculpture is very interesting. This is a present to the city of Vitebsk from Honored Artist of Russia, head of "Incredibly Strange Circus" Nicholay Chelnokov. And Vitebsk sculptor Ivan Kazak brought the idea to life.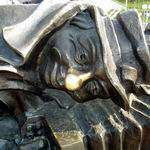 And yet - why this sight of Vitebsk is based on mysticism? Whether because it was donated with all heart or because it was cast by a truly talented person, but soon around sculpture "Street Clown" began to collect legends and beliefs. People have already tested the fact that if you touch the harmonica, a good mood will not leave you throughout the day. And to attract good luck for the whole, just shake the dog`s foot. They also say, though, if you touch the money peeking out from the back pocket of the wondering musician, you will pursued by financial success. And the clown's nose, if you touch it, will bring love. Above all, following the popular belief, do not overdo it. Because it is very funny to watch how people greet and embrace the bronze hero.
Of course, you can indulge in reverie by sculpture "Street Clown". Or you can wander nearby - and you will not regret. After all, there are quite amazing sights of Vitebsk within easy distance: Summer Amphitheater and Museum "Dukhovskoy Kruglik". If you have time you can leisurely stroll through Freedom Square, and even look into Shopping Center "Marco City". You can acquainted with these objects in absence – on city portal VitebskCity.by, which will look into the most secluded corners of the city and disclose the most incredible pages from the history of Vitebsk.