Article's author: Svetlana Nesterovic
Published: 2012-09-16
Reviews: 8126
Monument to Heroes of the Patriotic War of 1812 - the oldest in Vitebsk.
Have you ever seen a 100 year eagle? If not, it's high time for you to walk to the Park Heroes of the Patriotic War of 1812. However, this bird does not belong to urban fauna, but to the culture of Vitebsk, because crown yet another object of historical Vitebsk - a Monument to the Heroes of World War II in 1812, established a century ago.
It is quite simple to find this attraction of Vitebsk: from the city centre along the Dvina River from the Holy Assumption Cathedral, and from Lenin Square - directly across the Park of Partisan Glory in a direction that indicated by Lenin.
As it was already mentioned, this is the oldest monument in Vitebsk. It was opened in 1912 in honour of the 100th anniversary of the victory over Napoleon's troops. A competition was announced among the architects for a design of the monument, and even claimed some requirements: the Monument to the Heroes of the Patriotic War of 1812 was supposed to be certainly quadrangular, simple, but noble. As a result, a project of well-known Russian architect Ivan Fomin won.
The money for the monument were collecting, that says, "every little helps", all the city of Vitebsk, the whole province were involved in this, even private individuals sent three rubles for the monument! The laying of this monument has become an important cultural event in Vitebsk at that time. The monument was laid down on October 26, 1911 at the Governor's Avenue and opened on December 6, 1912. Initially, the attraction of Vitebsk was made of wood and set in place to identify any shortcomings. By the way, the original design of the monument was to be just 26 meters obelisk of red granite and there was no bronze eagle on the ball, crowning it.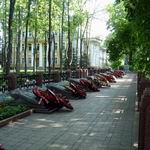 It is worth to see the Monument to the Heroes of the Patriotic War of 1812 at least because that it has not lost its original appearance after hundred years! Who is interested in the history of Vitebsk, not "Energy" club and festive "Slavic Bazaar", do not leave this place without attention. Amateurs of weapons might be interested in iron canons set around the monument. They were cast on the model of Peter the Great mortars. Nearby is a small military cemetery. The park itself is very beautiful and quiet, sitting on the bench, you can admire the former Governor's Palace, from the bank of the Dvina River - views of Vitebsk...
But in general, not to waste time, visit VitebskCity.by look at what else can you see in Vitebsk, and plan your route to visit several attractions. The portal about Vitebsk collected information about the monuments in Vitebsk, museums and exhibitions, and it will be really useful for people who want to learn more about the city.
The Monument to the Heroes of the Patriotic War of 1812 is located near Marc Chagall Art Centre (Putna street., 2)