Article's author: Svetlana Vysotskaya
Published: 2013-02-20
Reviews: 9297
Money Transfer.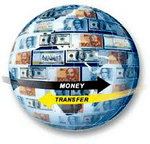 Sometimes we have to deal with the question of how to send money to Belarus from another country, or how to send financial aid to relatives living or staying abroad. At first the issue seems difficult and overwhelming, but it is actually easy enough. You can perform money transfer in any branch of the bank you like.
Transfer of funds is carried out almost instantly - within 5-20 minutes. However, the bank will take a fee for this operation, the amount of which will depend on the amount of money transferred, and the direction of translation.
Western Union, QuickPay, Contact, MoneyGram, Unistream and Anelik are the most popular international money transfers in Belarus. If you need to send money to the CIS or Baltic states, the most optimal transfers are Migom and Blizko. The main advantage of the above mentioned transfers - easy to fill in the documents, reliability and efficiency.
In addition, you can transfer money in a post office. By the way, the post works not for free either - you have to pay a fixed fee for the transfer of money equal to 8% of the transfer amount.
If you regularly receive money from abroad, you have to declare your funds and may pay the tax. However, there are some cases where money from abroad is not taxed:
• Transfers received from close relatives, regardless of the amount received from abroad;
• If a transfer (transfers) is obtained from an individual and an amount (s) does not exceed 500 basic units per year (on April 1, 2012, the base value is 100 000 belarusian rubles).
By the way, sending and receiving money transfers, keep in mind one weighty circumstance: if you want to get a transfer in foreign currency, not in Belarusian rubles, the money must be sent through a bank. If you plan to receive money at a post office, the foreign currency is automatically converted into Belarusian rubles at the exchange rate of the National Bank, established on the day the transfer to Belarus.