Article's author: Svetlana Nesterovich
Published: 2012-09-24
Reviews: 8263
Shmyrev Museum: to appreciate and remember you need to know!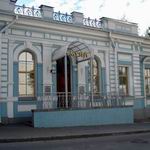 There are many places in Vitebsk where you can have fun and relax. But there are places in the city where there is not only what to see, but something to think about. One of them is Vitebsk Regional Museum of the Hero of the Soviet Union M.Shmyrev.
The opening of Shmyrev Museum was held in Vitebsk in 1969 and was timed to celebration of the 25th anniversary of liberation of Belarus from Nazi invaders. This landmark of Vitebsk became an important object of the culture in Vitebsk: now everyone can get acquainted with the life and work of Minay Shmyrev - legendary Old Man Minay - commander of the first partisan group in Vitebsk region, the Hero of the Soviet Union and the honorary citizen of Vitebsk.
Built at the turn of 19-20 centuries, the museum building has the right to be called a single landmark of the city (like many other buildings of Vitebsk museums, as you can see by reading articles on the site of Vitebsk). Four exhibition halls of the museum feature more than 1500 exhibits: personals, documents, photographs, awards of the brigade commander, maps and charts of the Great Patriotic War, the partisan life items, books, highlighting Shmyrev`s activity. Lots of weapons are showed in the museum, beginning with a parabellum and ending an aircraft missile. The original continuation of the museum is a memorial park with a sculpted bust of the brigade commander.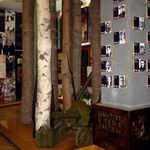 This object of tourist Vitebsk is oriented to those who are truly interested in not only historical Vitebsk, but the history of Belarus in general, for those who cares about the past and the future of the homeland. You should not think that a museum of this kind may be of interest only to the men folk, this is not true (tested on myself). Rich exposition, a very interesting tour, demonstration of films on the life and work Old Man Minay cannot help but be interested to thinking and interesting persons, regardless of sex.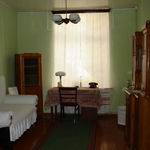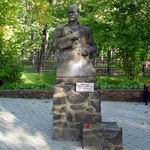 This museum in Vitebsk features not only usual exposition stands. Thus, one of the halls reproduced a workroom of Minay Shmyrev. It's amazing how much can be said about the nature of a person looking at the things that once surrounded this man: nothing more, the atmosphere is very simple but practical, but all you need for work and life ... So he himself was a candid and decisive person, who did not fritter away his energy.
Exhibition "Models of military equipment of World War II" is very interesting. It includes about 30 models collected by Vitebsk modeler D. Kirillov. And this is not just miniature toys displayed arrow. They reconstruct the whole scene of battles, each of them has its own role and its history, its own character.
If you still do not know what to see in Vitebsk, which objects to the tourist map of Vitebsk worth your attention, then Shmyrev Museum is really worth to spend your time it.
Working hours of Shmyrev Museum: from 10.00 AM to 7.00 PM (holiday – Monday), phone: +375 212 366954.
It is quite simply to find it, from Lenin Square you need a little walk down Chekhov street, along the right side of the Partisan Glory Park .
You can plan your route to visit other attractions of Vitebsk, located nearby: Vitebsk Philarmonic Hall, Botanical Garden, Marc Chagall Art-Center.
Find more information about these and other equally important sights of Vitebsk at city portal VitebskCity.by.