Article's author: Svetlana Vysotskaya
Published: 2012-08-23
Reviews: 9552
Sculpture "Welcomers": in Vitebsk we always welcome guests.
Perhaps, one can`t but agree that Vitebsk sculptures deserve special attention. Each has its character and its history."Welcomers" sculpture is no less interesting in this regard, which became a symbol of the continuity of generations and the result of a successful union of creativity and gift.
It is pleasant to go back to where we are waited and gladly welcomed. Vitebsk is no exception in this regard – we always welcome guests. In order to see the hospitality of tourist Vitebsk, it is enough to walk through the streets of the city and see firsthand how it is clean, bright and cozy corner of the earth.
There are so many attractions in Vitebsk that you can walk around the city all the time, and each time discover unknown facts from the history of Vitebsk. This once again confirms that the culture of Vitebsk is so diverse and unique that one can only envy. And even if you visit the city for the first time, I always find something to see in Vitebsk.
Those who like to travel by train are especially lucky. On the first platform of the railway station there is one of the most remarkable sculptures in Vitebsk - "Welcomers".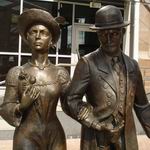 It has been well said that amazing is behind you. Seeing sculpture "Welcomers", you will have a feeling that the separate moments of the past era have lost in the modern world of high-rise buildings of a dynamic city. The thing is that the guests on the platform are welcomed by a couple, dressed in the latest fashion, but ... of the beginning of the last century. An elegant lady with a flower in her hand and a middle-aged man impatiently glancing at his pocket watch, are waiting for the guests, perhaps you, to make your stay in Vitebsk unforgettable. By the way, the idea to create such a sculptural composition belongs to a resident of Vitebsk S.Paholkin, and was embodied it in life by sculptors A.Torosyan and A.Gvozdikov.
Sculpture "Welcomers" is symbolic in its essence: it was installed on the first platform for a reason: it is here comes Vitebsk train called "Slavic Bazaar". What is the symbolism here – our future is in the past. And if we do not want to lose the spiritual core, we cannot ignore the history and traditions of our native land.
The culture of Vitebsk is diverse and rich – to understand this you only need a few minutes to discover the city. And look no further than necessary. After all, next to sculpture "Welcomers" there are also other no less interesting sights of Vitebsk. The monument to Marc Chagall in Pokrovskaya Street and House-Museum of Marc Chagall deserve particular attention. For a more dense exploration of the city you should walk down Kirov Street and enjoy ultramodern design and architectural solutions of the Railway Square. An interesting history of these buildings can be found at the portal about Vitebsk - VitebskCity.by.