Article's author: Eugenia Sabitskaya
Published: 2012-12-03
Reviews: 6446
Liberty Square in Vitebsk.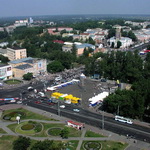 Liberty Square, located at the intersection of Zamkovaya Street and Frunze Avenue, is the central square of Vitebsk. Now the square is used as a popular venue for fairs and New Year festivals. Here, folk groups perform at a convenient site-stage during "Slavic Bazaar" festival.
The history of the square fits the history of Vitebsk, because the first data about it is dated by the 14th century. In 1959, a birch-bark manuscript of the 13th century was found in the square during excavations. In 1963, the research of soil of the square discovered an extensive cultural layer with the remains of wooden structures, pottery, clay and stone molds for metal casting, crystal and glass beads, dating back to the 13-17 centuries.This is the oldest square in Vitebsk.
In the 16th century, its borders were Velikaya Street and Kozmodemyansky lane. In the centre of the square there was the Pyatnytska Church. The territory of the square was occupied by buildings of Alekseevsky Monastery. Later Jesuit College emerged here, converted to St.Nicholas Cathedral, an interesting sight of prerevolutionary Vitebsk. The square got the name Sobornaya (it is known on many Vitebsk sites devoted to the history of the city), which survived until the October Revolution. Next to the area located the houses of the governor and the vice-governor, the city fire department. In 1975, the square was reconstructed with the adjacent Zamkovaya Street and part of Pushkin Street. The territory of the square belongs to the protected zone of the historic part of the city, so you can see it in Vitebsk, but it is strictly prohibited to violate public order within its territory.
Now Liberty Square is one of the most popular among the citizens. In one side of the square there is Frunze Park which pleases visitors with spectacular views of Vitebsk, in the other side there is the Art Museum. During "Slavic Bazaar" festival the square unites a lot of viewers watching concerts on a giant screen.
To get to the Liberty square from the Railway Station you can use almost any type of transport.
If you plan to spend the weekend in Vitebsk with advantage, to learn something new of the history of Vitebsk, certainly visit "Dukhovskoy Kruglik" museum located next to the square. Information about it and about other interesting attractions in Vitebsk can be found on City Portal VitebskCity.by.